Humble Beginnings: from Cassette Tape to Multi-Room Audio
I can still remember the first song I ever recorded onto a cassette tape, it was John Farnham's 'Pressure Down'. The year was 1986 and I sat in the middle of my bedroom floor listening to the Top 40 Countdown. My finger hovered over the 'Record' button, ever so mindful to hit record at exactly the right moment so I wouldn't miss the beginning of the song. The thought of filling up a cassette tape with all my favourite music was exciting but also tedious at the same time.
Hello Compact Disc!
It wasn't until the early 90's that I became aware of the increasing popularity of CD's and I wanted one! The technology jump from magnetic tape to compact disc had me wowed! No more having to sit and wait while you fast forward the cassette tape to the song you wanted; the CD allowed you to simply 'skip' whole songs at a time, all at the touch of a button! Or better still, no more tape getting chewed up inside your cassette player which I would always desperately try to salvage, only to be left with wonky sounding music!
Multi-Room Audio
Fast forward to today and the way we listen to music at home is far from the humble cassette or CD.  Thanks to modern technology, music is no longer confined to one room. Multi-Room Audio allows us to listen to any genre of music in any room through ceiling or wall mounted speakers and it's all operated via our smart phones. The music can be streamed from numerous sources from our smart phones, computer hard-drive, internet radio or any subscription services such as Spotify, I Heart Radio or Pandora to name a few. In a nutshell we have any type of music available to us on tap, in any part of our house!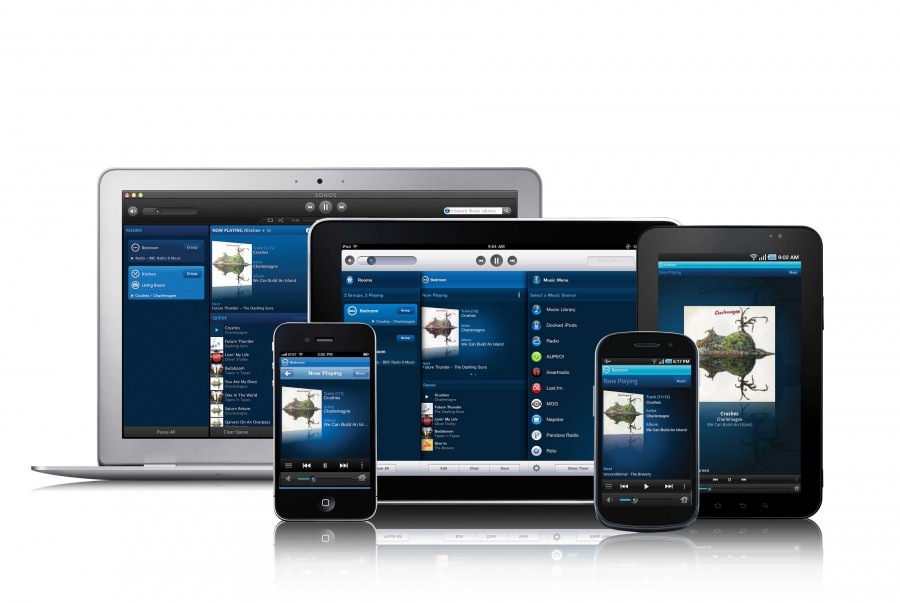 A cool feature is the ability to 'zone' our music (like you would with air conditioning) to only play in certain rooms. This is handy when we're entertaining friends outside in our alfresco area and want to listen to music independently to what is playing inside when the kids don't share our taste! Perhaps the kids want to listen to the top 40 charts upstairs, while we watch TV downstairs or we could stream the same music throughout the whole house, inside and out, if we like!
With the simple use of controlling the music via an app on our phones, it's easy to set-up and create playlists according to mood: easy listening for a lazy Sunday morning brunch, to rock genre when needing extra motivation completing chores around the house! No more having to play whole albums if you don't like every song, you can select the songs you want to listen to and add them to the Playlist.
It's exciting to think what the future of music delivery will be. I read an article recently, one of the major music streaming companies is working on how to deliver a more intuitive listening experience. They go on to explain that technology will be able to gather data on its users and predict what type of music they may like to listen to at any given moment and adapt and deliver accordingly without us having to create playlists. Fascinating!
Follow us on facebook for more great content on multi-room audio and home automation.
If you're considering Multi-Room Audio for your home or simply have any questions, we're here to help with further information. Our solutions are scale-able and future proof. Start off small and add to your system as your lifestyle needs change. Have a chat with one of our friendly team members or shoot us a quick email. We love integrating technology.
Integrating Electronic Lifestyles